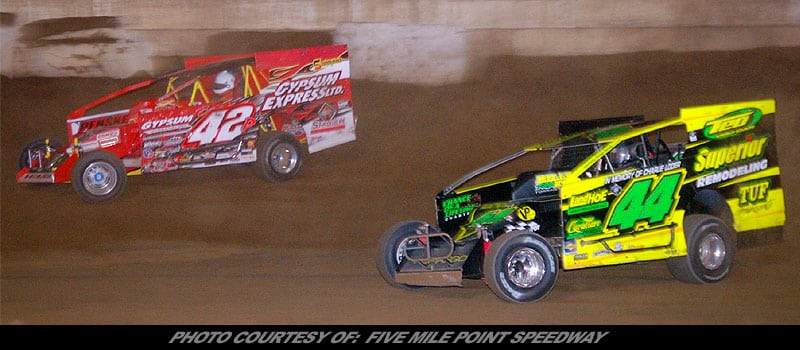 Information By: ANDREW HARPELL / FIVE MILE POINT SPEEDWAY – KIRKWOOD, NY – Anthony Perrego bested Michael Storms, Pat Ward and the rest of the Modified field at Five Mile Point Speedway to claim the Summer Slam Victory on night two of the Quarter Mile Dirt Track Championship Weekend.  Full results are posted with a story to come.
SHAKELTON NAPA MODIFIED SUMMER SLAM OFFICIAL FEATURE FINISH: ANTHONY PERREGO ($2,000), Michael Storms, Pat Ward, Joey Colsten, JR Fulpher, Rusty Smith, Nick Rochinski, Dan Creeden, Glenn Knapp, Brian Malcolm, Brad Szulewski, Matt Cole, Mike Colsten, Jesse Leiby, Richard Smith, Barry White, Brad Weaver, Travis Smith, Steve Babicek, Kurt Hundeland, Charlie Hendrickson Jr., David Doig Jr. SUMMER SLAM CHAMPION: ANTHONY PERREGO…Gamblers Bonus: Perrego/T. Smith.
CRATE SPORTSMAN OFFICIAL FEATURE FINISH: TOMMY COLLINS JR. ($1,000), Bobby Flood, Tim Guild, Todd Titus, Mike Nagel Jr., Frank Dorry Jr., Tyler Peet, Byron Worthing, Rich Powell, Devon Zona, Ray Leonard, Dale Welty, Tanner Harpell, Jimmy Leiby, John Redner, Randy Brokaw, Stacy Jackson, Jeremy Williams, Craig Monroe, Moose Gulley.
SUMMER SLAM STREET STOCK OFFICIAL FEATURE FINISH (25): BUTCH GREEN, Shane Wolf Jr., Doug Polhamus, Matt Bowman, Ray Lindquist, Gene Sharpsteen, Earl Zimmer, Doug Stack Jr., Randy Fox, Charlie Towner, Kyle Stark, Abe Romanik, Jeff Emmanuel, Doug Stack Sr., Brad Steinruck, Justin Slezak, Keith Beach, Jim Sykes. DNS – Tommy Groover. SUMMER SLAM CHAMPION: SHANE WOLF JR., Factory Stock Bonus: Charlie Towner.
SUMMER SLAM 600 MODIFIED OFFICIAL FEATURE FINISH (20): BAILEY BOYD, Mike Wilcha, Chris Kithcart, Doug Windhausen, Tyler Smith, Kevin Vanvalkenburg, Dana Davis, Geoffrey Sutton, Rich Powell, Mike Golden, James Randall, Doug Lattner, Gabby Meixell, Adam Mudge, Nolan Smith, Chelsie Beebe. SUMMER SLAM CHAMPION: BAILEY BOYD, DNS – Damon Henry, Scott Landers.
FANTASTIC FIVE FWD FOUR CYLINDER OFFICIAL FEATURE FINISH (20): NICK KENNEDY, Kenny Underwood, Steve Lunn, Robert Kress, Jake Maynard, Adam Gilbert, Tucker Harpell, Brian Salmini, Dave Simms, Shawn Gleason, Randy Lane, Josh Wilder, Greg Slater, Trevor Williams, Rick Sinsabaugh, Mat Mather, Don Woodworth. FANTASTIC FIVE CHAMPION: NICK KENNEDY.
SUMMER SLAM WINGLESS SPRINT OFFICIAL FEATURE FINISH (25): THOMAS RADIVOY, Jeremy Quick, Eric Jennings, Mark Cole, Michael Traver, Wade Prentice, Brandon Clapperton, Barry Lavalley, Cortney Prentice. SUMMER SLAM CHAMPION: THOMAS RADIVOY.
JUNIOR 300 C.C. MODIFIEDS OFFICIAL FEATURE FINISH (12): JOSH LANDERS, Jayden Bunyavong, Mason Trautschold.