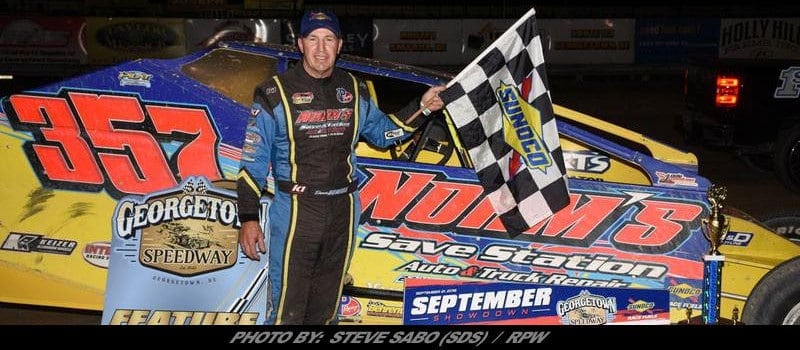 Information By: BRETT DEYO / GEORGETOWN SPEEDWAY – GEORGETOWN, DE – Duane Howard kept his hot streak going on the first day off fall as he picked up the 30-lap Modified feature event win at the Georgetown Speedway on Friday during the track's 'September Showdown' event.  Full results from the night are posted with a story to come.
'SEPTEMBER SHOWDOWN' RACE SUMMARY – GEORGETOWN SPEEDWAY SEPTEMBER 21, 2018
Sunoco Modified Feature Finish (30 laps): DUANE HOWARD, David Van Horn, Brandon Grosso, Ryan Krachun, H.J. Bunting, Kevin Sockriter, Ryan Watt, Jeff Strunk, Jordn Justice, Brad Trice, Robert Dutton, Dave Shirk, Neal Williams, Carson Wright, Jim Britt, Billy Pauch Jr., Craig Von Dohren, Jamie Mills, Jeremy Harrington, Scott Van Gorder, Jimmy Horton, Jordan Watson, Ryan Godown, Joseph Watson, Danny Bouc, Amanda Whaley.
Did Not Qualify: Ron Roberts, Brian Hitz, Brad Roberts, Bobby Watkins, Brandon Watkins, Kevin Gardner.
Capitol Renegade United Racing Club Feature Finish (27 laps): JOSH WELLER, Justin Barger, J.J. Grasso, Adam Carberry, Ryan Watt, Eddie Strada, Curt Michael, Troy Betts, Chris Allen, Steve Downs, Ryan Quackenbush, Mark Van Vorst, Mark Sasso, Jason Cherry, Jonathan Swanson, Ryan Stillwagon, Bill Unglert, David Swanson.
L&J Sheet Metal Crate 602 Sportsman Feature Finish (20 laps): SCOTT HITCHENS, Joe Toth, Greg Humlhanz, Steve Kemery, Alex Yankowski,Matt Smith, Adam White, Jordan Long, Rodney Cordrey, Corey Cormier, Dwayne Crockett, Trent Van Vorst, Sean Metz, Tom Moore Jr., Ryan Macartney, Duane Rust, Tanner Marvel, Michael White, Jeff Marker, John Stevenson, Tyler White, Paul Griffin Jr., Ricky Schafer, Shawn Ward, Brad Roberts, David Jenkins, Ryan Riddle.
Southern Delaware Vintage Stock Car Club Feature Finish (12 laps): ROSS ROBINSON, Robert Paczkowski, L.J. Walbert (Sportsman winner), Jamie Eicholz, David Parsons, David Tucker II, Robert Blann, Josh Burton, David Schamp, Don Davidson, Josh Smith, Freddie Brightbill.
Little Lincoln Feature Finish (12 laps): JOE TRACY, Jordan Herbert, Wayne Seaton, Kirk Lawson, Ryan Walsen, Brian Piercy, Matt White, Sean Smith, Bunky White, T.J. Henry.
Delaware Super Truck Feature Finish (12 laps): JERRY HILL, Robert Smith, Matt Esham, David Smith, Dale Elliott, Mike Kennedy, Kirk Miles Jr., Bobby Reid, Rocky Whitley, Kirk Miles Sr., Dick Beauchamp, Thomas Jackson, Bill Dean, Tony Bowers, Parks Abrams, George Shupp.
Delmarva Charger Feature Finish (12 laps): JERRY BARKER, Ashley Merritt, Chris Martinez, Robert Paczkowski, Joe Waters, John Bailey, Randy Merritt, Derek Swafford, Joe Morell.