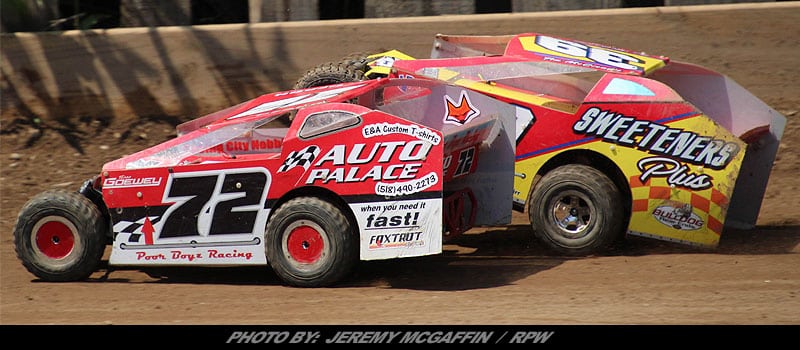 Column By: LAURIE FALLIS / RPW – GLOVERSVILLE, NY – When you think about about dirt track racing, you think of our local tracks that have all the elite cars and divisions…the Modifieds, Sprints, Sportsman, and Pro Stocks.  Let me tell you how I was introduced to a different kind of dirt track racing, "RC cars, dirt style".
On a thought from one of my Race Pro Weekly colleagues, and under my own curiosity, I was able to venture my way to a little place outside Gloversville N.Y. The location was the Meco Ballpark known to many where Softball is rich in tradition. However, my journey was not for that sport.  It was about finding the Fox Trot RC Park that rests next to the ball field.  I had to see for myself what the buzz is all about.
As I found my way to the track, I noticed guys lined up on a stand hovering over the track. I quickly recognized that they had controllers in their hands which controlled the steering and the speed of these unique little machines. I looked and saw my first glimpse of the RC cars and immediately noticed that the body's and paint schemes were exactly like our very own big version of Modifieds and Sportsman cars that run on our big tracks.
Next thing I noticed in familiarity with our big cars is that they also have transponders hooked to the cars.  This would certainly be a must because they move very quickly around the track.  Transponders make life a lot easier I noticed.
I watched some of the action before I went in to start asking questions.  One of the cool things to this place was along the backstretch.  That's where I noticed they had door panels of Mike Mahaney, Allison Ricci, Rocky Warner and Chad Edwards to name a few.  It certainly gave the track a unique look.
I just took the entire experience in, and then ventured my way to the scoring table where I met co-promotor Andrew Mosetti.  Mosetti was keeping track of the laps and what the finishes were.  I was able to sit a while and asked him what the format was and he told me tht they run two divisions Modifieds and Sportsman.  The difference between them is the size of the motors.  Modifieds have 13.5 brush-less motors and a speed controller while the Sportsman have a 12.5 motor.   The Sportsman are the cheaper class to run because of this.  Sound familiar?
Averaging 12 cars per class each week, both run 20-lap heats with the Modifieds going 75 laps for their feature while the Sportsman make 50 circuits around.  As you can see, transponders are a must.  These classes also run for points, just like the big cars, and race towards a points championship which culminates at the end of the season.
I asked how long have they been in existences?
"This is our third year at the track which was built by Jeremy Sweet," Mosetti said.  "However, this is my first as co-promotor, joining Rob Hazer (Recognize that name?).  It's just a lot of fun.  We run every Sunday starting at noon its a $10.00 donation that goes back into the upgrade of the track.  We'd really would like to get lights for this place somewhere down the road."
Competitors were getting ready to race so I thought it was best to be on may way to the work zone.  I looked and saw tables set up under the pavilion and thought this has to be pit row, and it was.  This had the same feel as a pit area for the big cars.  Tools, different cars,, with all different paint schemes representing their favorite drivers or their own designs.  Lots of battery packs, shocks, tires, and of course, compressors.
I ran into my fellow RPW teammate Bill McGaffin as he was preparing his car for the feature as well as Dan Hanson, who usually only does RC racing during the winter.  He likes this because it gives him something enjoyable to do that time of year. I also ran into former Fonda Speedway Sportsman driver, Mike Peek.
I asked each of these guys why they do this?  The answers were relatively the same.
"It's a cheap hobby and you get very addicted to it," they told me.
"That's certainly a good addiction in my eyes.
You can get a car, have it lettered and be competitive for around $500 and it sure seems like a blast for everyone that was there.  I then asked what  the maintenance program was like on these cars.
"Just like the big cars," Hanson stated.  "If you want to be competitive, you need to take the time to work on them.  You can put anywhere from 15 to 20 hrs a week easily."
"They are certainly a lot cheaper then the real deal," Peek said.  "However, they are still just as much fun."
The promoters wanted to make sure they mentioned their sponsor E+A Custom T-Shirts as well as all the drivers that come out and support their racing. They even have their own track photographer, Jeremy McGaffin, one of RPW's finest.
You can find out more information on their web site at www.foxtrotrcpark.com and also you can look up their page up on facebook.
As I departed from the track, one thing I noticed was that everyone sure was enjoying what they were doing.   You could see the excitement and passion in all of them and the dedication to the RC cars.
Make sure you all try to get out to the track and take your family to see what a great hobby this is.  It doesn't matter what type of racing it is as long as you are involved.  By the looks of it, I will be bringing my grandchildren next time and I know they will enjoy it that's for sure. No matter what racing it is, it's always about the people..the family.
It just goes to show no matter how small or big the cars are, these machines share a lot of similarities with their bigger siblings but only on a smaller scale.  One thing is for sure.  It's dirt track racing…the sport we find very addicting and we love.
Thank you Bill McGaffin for showing me the RC world.  Peace to our servicemen and women, along with their families. See you all at a dirt track.