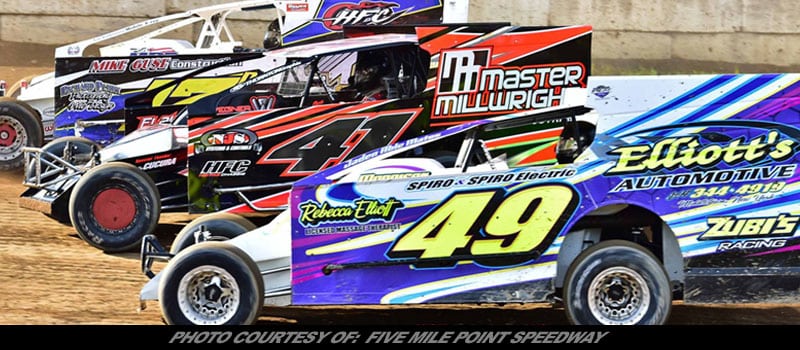 Story By: ANDREW HARPELL / FIVE MILE POINT SPEEDWAY – KIRKWOOD, NY – The intensity on the track will certainly increase this Saturday night at Five Mile Point Speedway as Championship Month will get underway.
Three Saturday night races in August will determine all of the 2018 Track Championships. This Saturday fans get an amazing deal as their will be double Modified features with no increase in grandstand admission. It is also Youth Night so all kids 17 years old and younger will be admitted FREE of charge! Racing begins earlier at 6 p.m. this Saturday due to the double feature events,
This Saturday is also New Milford Community Night at the speedway. All town residents showing photo i.d. at the ticket booth will be admitted in to the grandstand free of charge. The on track action will certainly be heating up as only three Saturday night's of racing remain in August to determine the 2018 Track Championships in all classes.
The Modifieds will be running in double feature events. The first feature will begin on lap 8 as it was rained out back on July 21st. The teams will then have to re-qualify for their second feature of the evening as this Saturday will have a big factor in determining the 2018 Modified Track Champion. Rusty Smith from Oxford, NY is the current Modified point leader over Brian Malcolm from Old Forge, PA and Nick Rochinski from Dickson City, PA.
Young Alex Yankowski has set the standard in the Crate Sportsman division this season and leads the way entering Champions Month. Ray Lindquist is the top gun in the Street Stocks with Bailey Boyd setting the standard currently in the Xcel 600 Modified class. Nick Kennedy is the Lightning Cat Expert point leader and defending track champion. Charlie Gilbert leads the way in the Factory Stock class entering Saturday and Randy Lane is the current Lightning Cat Novice point leader.
All of the action gets underway earlier this Saturday night with a 6 p.m. start. This Saturday is Youth Night so kids 17 years old and younger will be admitted in to the grandstand free of charge. Pit gates open at 3:00 p.m. with grandstand gates opening at 4:00 p.m. Practice gets underway for the teams at 5:00 p.m. with racing set to begin at 6:00 p.m.