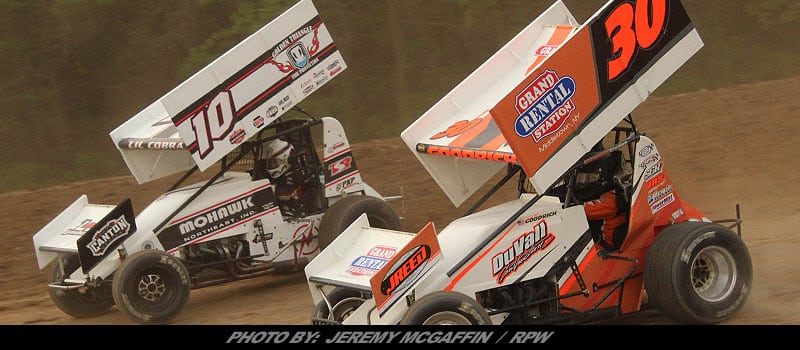 Story By: CURTIS BERLEUE / PATRIOT SPRINT TOUR – SODUS, NY – After a few long weeks off, some scheduled and some thanks to Mother Nature, the Patriot Sprint Tour will return to action this weekend at Woodhull Raceway, kicking off a busy string of 7 events over the next four weekends.
In two previous attempts this season, Mother Nature has been victorious twice over the Patriot Sprint Tour at Woodhull Raceway thus far. The originally scheduled spring visit in May was postponed until June 23 due to rain and cold temperatures. The June make-up was then lost to an extremely unfavorable forecast as well. Drivers, teams and fans alike are hoping that the third time will indeed be the charm this weekend at the 'Highbanks' for the tours annual July visit.
Last summer at Woodhull Raceway multi-time series champion Bryan Howland went two-for-two, winning both the spring (May) event and mid-summer (July) spectacular. In 2016, tour veterans Jared Zimbardi and George Suprick were victorious.
Following this weekends action will be the highly anticipated 'Canadian Triple Treat' weekend. A three-race series will be contested at Ohsweken Speedway on Friday July 20, Brockville-Ontario Speedway on Saturday July 21 and culminate at Cornwall Motor Speedway on Sunday July 22. Following suit with the theme of "3's", each event will pay $3,333 to win and $333 to start (USD). The events will also award show-up points for the overall 2018 PST championship, and a separate mini-series points tally will be kept as well.
The next two weekends after that will see three nights of PST competition at Outlaw Speedway in Dundee, NY. First up on July 27 & 28 will be the Outlaw 360 Summer Nationals, with preliminary events held on Friday and the $6,000 to win main event on Saturday. Then the following Friday, August 3, the tour will return for the annual Celebrity Night, in conjunction with the stars of NASCAR just down the road at Watkins Glen International.