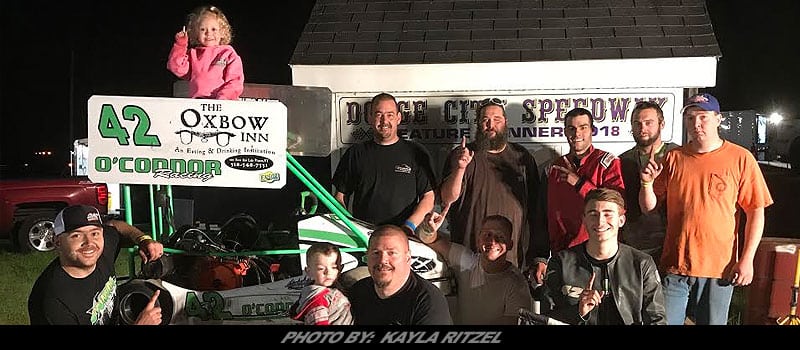 Column By: JAMES HILLIER SR. / RPW – LAKE PLEASANT, NY – No, that's not a typographical error where this entire story came from.
It's about a fifty minute drive one way through Gods country from my home base of Johnstown, New York. I have not been to Lake Pleasant in Hamilton County since a young kid delivering GTE phone books with my dad Herb sixty years ago. I followed my path up through Caroga Lake, Canada/Green Lake, Pine Lake and up Route 10 to Route 8 to reach the friendly confines of the Oxbow Inn my scheduled site to gather information for this story.
I can honestly state that the trip in the late afternoon hours was spectacular in terms of beauty at its best in the Adirondack Mountains of upstate New York. I mean when I mention upstate New York the common question is are you close to Yankee Stadium? No, it's upstate, peaceful for the most part and just plain beautiful! Okay, enough of the nature trail stories and let's get on with the business at hand – O'Connor Racing.
When I attend a race track and it's events, I usually look into different case scenarios that when writing about it the story should be something different. I had this discussion with Head Honcho of RPW Bobby Chalmers the date we met that race results come from the race track PR folks and a columnists story relates to different behind the scenes situations that one doesn't normally see happen.
Case in point, I was venturing around the packed pit area one Saturday night in 2017 at Caroga Creek Speedway and this one operation/kart team caught my immediate attention so I strolled over to this fast paced operation to see just what the heck was going on. Who was this cast of characters and what type of kart racing were they up to. Turns out it was noted on the side of their black and green lettered enclosed trailer that they were the O'Connor Racing Team. Inquiring minds (mine) wants to know who is the Captain or General of this operation?
Enter the dynamic duo or close knit brothers Mike and Mark O'Connor who together during the day own and successfully run I might say O'Connor Automotive Sales and Service along with O'Connor Towing and Recovery and are AAA sanctioned. First nosey question from me to the O'Connors "Do the two busineses keep you busy?" Mike O'Connor, the elder statesman of the team, "Being basically the only show around it sometimes really keeps us hopping taking professional care of our customers in the Lake Pleasant, Speculator, Wells ansd surrounding areas.
Toss in the auto parts industry names of products like NAPA Auto Care, Interstate Batteries, Amsoil and Cooper Tires we do have a lot of great products to offer our faithful and new customers. This is a third generation O'Connor run business and with the unfortunate passing of the brothers (Mike, Mark and Mitch) losing their father in 2011 to cancer the O'Connor way of doing things successfully carried on. So to all of the readers and followers of Team O'Connor get to know up close and personal here goes with the bios of each family. New fans are welcome!!!
Let's begin with brother Mike who also serves as a councilman in his town and is married to the former Cristi Buyce. What did the two of them do almost three years ago? Cristi and Mike purchase the Oxbow Inn located in Lake Pleasant of which Cristi runs. Their two sons Tyler and Tucker assists mom in the kitchen. Tyler will graduate from Wells Central this month and enter Paul Smiths College in the fall. His goal I'm told is to become either a forest ranger or Encon official.
Tucker, when he's not dreaming about becoming the next area top racer, will enter his senior next year at Wells. In the mean time, Tucker tries to get that very important seat time experience along with working side by side with his dad, uncles and team mates. I've watched with great interest the progress that Tucker has shown during the 2017 season and it includes maturity something talent wise is very important in todays racing world. If Tucker continues to pilot the O'Connor Automotive/Oxbow Inn #42 like he did in 2017, it will be time to maybe move on to attempt maybe a slingshot, Crate sportsman or Tuckers personal dream a sprint car! Hey, Tucker won at Daytona last December in the World Karting Association Senior Champ Heavy division and why #42….he likes Kyle Larson and his driving style.
Mark O'Connor has all of the setup skills that make this team so successful. When brother Mike tells me that Mark does the chasssis setup along with tire selection, you can sense right away the closeness of the two. Mark is married to the former Laura Quickenton who is a teacher at Lake Pleasant School. The couple has a daughter Jocelyn who is in the banking industry while Mark waits patiently like his son Ryan for the day when Ryan returns to the seat of his #12 O'Connor Automotive kart. Ryan is recovering from back surgery so when it is the right time to return the father/son team will be ready to resume their racing passions. In the mean time, Mark has the team running competitively with assistance from tire guru Jeremy Tuttle who some say is the best in our immediate area for tire preparation and producing winning results.
The youngest of the O'Connor trio, Mitch, resides in Westmoreland New York with his wife the former Kayla Ritzel and they hold the trump card for the future of Team O'Connor with young sons Chase and Callum who at the March Runnings store car show climbed into one of the wing champ karts and were arguing over seat time. Mitch is employed as a corrections office by the state of New York. Mitch utilizes the O'Connor Automotive/Oxbow Inn #41 and is a team mate with his nephew Tucker.
Drivers Mike Guiffre #33, Jeremy Tuttle #33 and Steve Rothwein #39 have been added to O'Connor Automotive Team roster and already have secured wing champ wins much to the delight of their other team members. When asked to sumup what the team appears to look like in 2018 both Mike and Mark replied,"Both Mike Guiffre, Jeremy Tuttle and Steve Rothwein bring a big morale boost to our team every race as well as being great team mates.
Our brother Mitch is a lot of fun to be around as well as being very competitive every time he buckles in to his wing champ kart and then there is the chassis/tire experts Jeremy Tuttle and my brother Mark. Right now we have the makings of a great five driver team for the 2018 racing season. I wish to mention two of our great racing supporters and class acts in Rathbun Trucking in Cold Brook New York and I can't say enough about my good friend on and off the track Doug Grimaldi owner of Adrenaline Rush Racing in Rome New York."
I personally have seen many teams compete in various forms of racing in the past forty plus years. Team O'Connor Automotive/Oxbow Inn works hard, plays hard and really seem to enjoy competing in the wing champ division. Let's hope that Mark and Laura O'Connors son Ryan heals properly and his physical back issues are left behind and he can jump back into the drivers seat. As for the future racing career of 16 year old Tucker O'Connor, the talent he currently posseses could take him a long way in his quest to make a dream come true, plus, he has the backing of his hard working parents to help him make that happen.
I closed the interview session one on one with Tucker suggesting that he attend various other forms of racing such as karts on asphalt (Brian Davies), sprint cars (Jeff Trombley/Warren Alexson), dirt sportsman/mods (Rocky Warner) and don't forget setups such as learning about tires speaking with Jay Castimore who assists the Keith Flach Racing #43 each week. I certainly now appreciate my time that was given me with the members of the O'Connor Family and I wish them the very best in whatever comes their way in 2018.
Mark O'Connor noted Dodge City Speedway promoted by the Montenaro Family (Paul) will be home every Friday night, following the entire Wing Champ Racing Series (Tom Varin) and other weekends we will travel to wherever we would like to compete as well as win. Next on my bucket list is taking my wife Sharon to the Oxbow Inn for a nice dinner (you have my permission to follow me there so you don't get lost!) and meeting Cristi O'Connor once again. Cristi reminded me as I was leaving the Oxbow Inn to watch out for the Moose that has been seen in the road!
The other cast of characters I already know who they are and what they certainly all about LOL. As I stated above, HARDWORK+DEDICATION=TOTAL O"CONNOR RACING SUCCESS guaranteed!