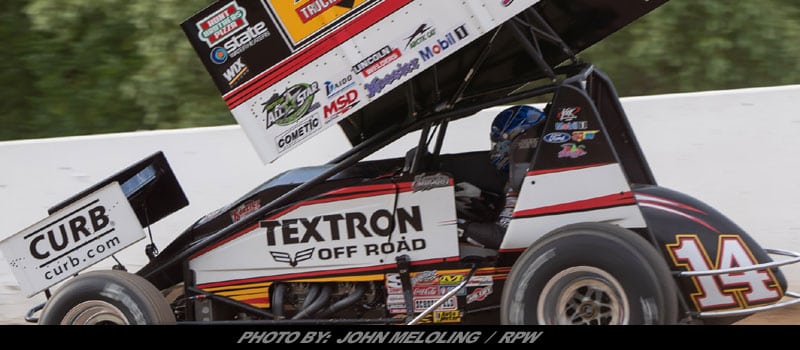 Story By: TYLER ALTMEYER / TONY STEWART RACING – BROWNSBURG, IN – Tony Stewart's march through the Empire State with the Arctic Cat All Star Circuit of Champions presented by Mobil 1 resulted in three consecutive top-ten finishes during action at three different facilities, highlighting his weekend with a top-five performance at Stateline Speedway near Jamestown on Saturday, June 9th.
Stewart, driver of the Tony Stewart/Curb-Agajanian Racing/Rush Truck Centers/Textron Off Road/Ford Performance/Curb Records/Sage Fruit/No. 14 sprint car, followed the All Star Circuit of Champions to Outlaw Speedway, Stateline Speedway, and Weedsport Speedway during the three-race stretch, finishing sixth, fifth, and seventh, respectively.
In impressive fashion, two of Stewart's top-ten finishes were accomplished from well outside the top-ten, actually ending the weekend with a massive charge from the outside of row eight to finish seventh at the state-of-the-art Weedsport Speedway on Sunday, June 10. In addition, Stewart's sixth place finish at Outlaw Speedway to kick-off the weekend started on the inside of row seven.
When the dust settled on Sunday night, Stewart climbed a grand total of 18 positions during the New York triple-header, padding his season stat sheet that now includes 21 top-ten finishes in 29 events. Fifteen of Stewart's 21 top-ten finishes were accomplished inside the top-five.
Stewart qualified for all three main events in New York through heat race competition, finishing fifth, third, and sixth, respectively.
"It wasn't a bad weekend for our team. Sometimes it takes a little bit for us to get rolling, like at Weedsport on Sunday, but once we find something that works, our car tends to react pretty well," Tony Stewart explained. "We had a lot of fun racing in New York with the All Star Circuit of Champions. Every facility was unique in its own way. That's what makes racing with a Series like this a lot of fun; you have an opportunity to travel and visit unique places and compete in front of new fans. I'm already looking forward to my return."
Tony Stewart's upcoming plans have yet to be determined. Fans are encouraged to keep alert online, as well as on social media, and watch for any updates regarding his racing schedule.