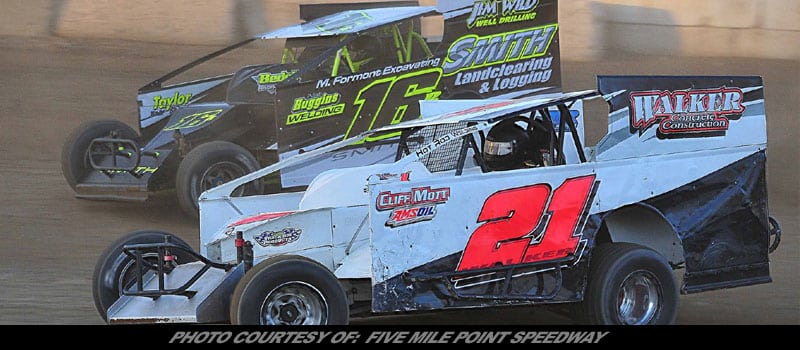 Story By: ANDREW HARPELL / FIVE MILE POINT SPEEDWAY – KIRKWOOD, NY – Historic is the most appropriate way to describe Five Mile Point Speedway in Kirkwood. For 68 consecutive years the speedway has provided an entertainment outlet and a multi-generational family racing experience.
Teams and fans have flocked from all over the United States over that period in what has been a remarkable history. This Saturday we will honor the track founders Irving and Anna Heath with the 54th running of the Heath Memorial. Racing begins at 6:30 p.m.
Irving Heath built the speedway in 1951 with the concept of having a multi usage entertainment facility. Although racing has been the number one product presented on the grounds at Five Mile Point Speedway there have been hundreds of other events. From rodeo's, to clam bakes, monster truck shows, weddings, fund raisers and funeral processions the speedway has been a part of the family to so many southern tier residents over the past 68 years. Mr. Heath passed away in 1965 and that year the first Irv Heath Memorial race was held in his honor. That race was won by DeForest Chalker.
Mrs. Anna Heath kept Mr. Heath's dream alive by leasing the facility to sanctioning groups and promoters until her passing in 2004. She loved the racing but mostly was loyal to the generations of drivers and fans that supported the speedway. She had many opportunities to sell the property after the passing of Irving but chose to keep the speedway operating that entire time.
This Saturday Five Mile Point Speedway will honor their spirit with the 54th running of the Heath Memorial for Modifieds. The annual Racer's Reunion will be held where many great drivers of the past will return to enjoy the event. Each year former drivers return from all over the United States to be part of this annual reunion. All of the former racer's will be recognized and introduced during a break in the action. With the theme of "history" the Mid-State Antique Stock Car Club will be on hand with some of the vintage cars from the past.
On the track the Modified teams will race for $2,000 to win for their 30 lap main event. The Crate Sportsman, Street Stocks, Lightning Cats, Factory Stocks, Xcel Modifieds and Junior Xcel teams will be in action. Kevin Bates, the 2017 Modified Track Champion won his first ever Heath Memorial last season.
As always kids 12 years old and younger will be admitted in to the grandstand free of charge. Pit gates open at 3:30 p.m. with grandstand gates opening at 4:30 p.m. Practice gets underway for the teams at 5:30 p.m. with racing set to begin at 6:30 p.m.