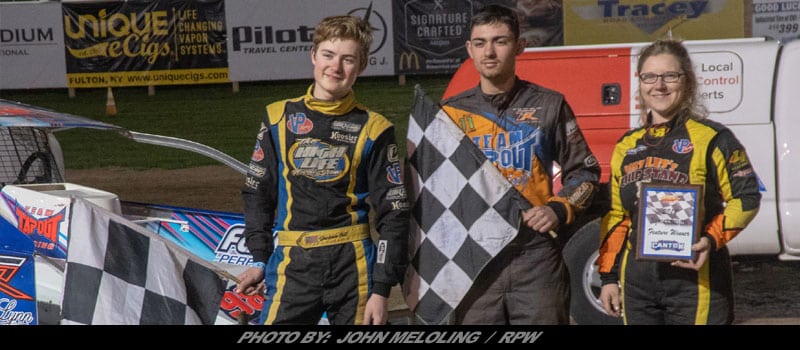 Story By: DAN KAPUSCINSKI / TEAM TAPOUT RACING – OSWEGO, NY – Tyler Thompson drove his way to the front at Fulton Speedway on Saturday night, earning his first career northeast Sportsman triumph on the High Banks after starting from eighth position in his Team Tapout Racing No. 98T Troyer chassis.
Coming in riding a wave of disastrous luck, which saw a blown engine at Can-Am Speedway on Friday night, Thompson and team finally prevailed topping an ultra-competitive Fulton feature field consisting of veterans Zach Sobotka, Alan Fink, Willy Decker Jr., Mike Button and Mike Phelps.
After finishing second in his qualifying heat race, Thompson started the 25-lap main event from outside of the fourth row and by lap-10 had found his way into the runner-up position.
A caution just passed lap-10 bunched the field giving Thompson an opportunity at the lead on the restart, which he took advantage of, cruising passed early front runner Decker to lead the way.
Thompson would then have to survive several late race cautions, which he handled with ease, pulling away to a 1.104-second victory over Sobotka, Fink, Chris Mackey and Rick Miller.
"I need to thank all of my marketing partners, my crew, family, friends and everyone that helps out," said Thompson. "It feels good to get over the bad luck and finally win here. Hopefully we can keep this momentum going."
Thompson's win in his second career score in the Sportsman division after claiming the All-Star Invitational as a part of the World Short Track Championships at the Dirt Track at Charlotte last fall.
This weekend will mark Thompson's first dirt/asphalt double of the season as the 16-year old looks to make his first laps in the Team Tapout, Graham Racing No. 98 Novelis Supermodified at Oswego Speedway.
Thompson's weekend will open at Brewerton Speedway at 7:30 p.m. on Friday night in Sportsman action before taking on Oswego Speedway and Fulton Speedway on Saturday.
From 1 p.m. to 5 p.m., Thompson will hot lap his new Supermodified ride at Oswego and then head south to Fulton in search of another Sportsman victory on the High Banks at 7 p.m.
Sunday will see Thompson bring his No. 98T Sportsman to Weedsport Speedway to open the Spano Container Sportsman Shootout Series at 6 p.m.