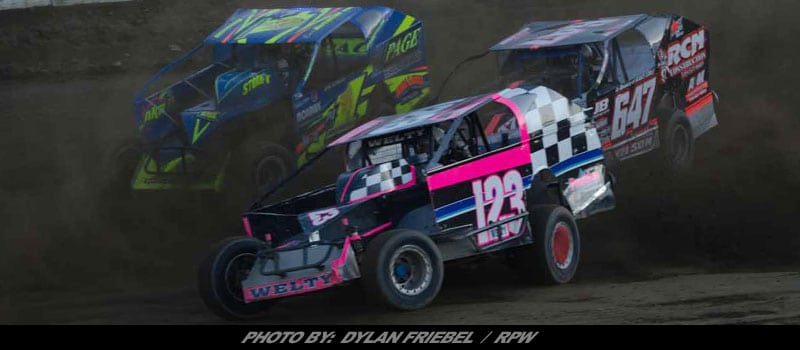 Story By: ANDREW HARPELL / FIVE MILE POINT SPEEDWAY – KIRKWOOD, NY – Five Mile Point Speedway held another very successful practice session on Wednesday night. After two failed attempts to officially start the 68th consecutive race season due to the wet and cold spring the speedway has made a very popular decision to jump start the season. Five Mile Point Speedway will now host a racing program on Saturday beginning at 5 p.m. The originally scheduled race for Sunday remains intact as well. Racing on Sunday will begin at 4 p.m. on Sunday setting up a double header weekend.
The Open Practice session originally set up for Saturday will still take place but has been moved up to 12 noon and run until 3 p.m. Then the first official race of 2018 in the southern tier will begin at 5 p.m. on Saturday.
The effort made by track crews this winter and spring has paid off. The brand new clay speedway surface put down in December was in fantastic shape on Wednesday evening for the open practice rounds. Track crews have been working overtime removing snow and prepping the Five Mile Point Speedway racing surface in preparation for this Saturday's season opening event.
Five Mile Point Speedway owner Andrew Harpell commented on the newly added race event for this Saturday, "We have certainly been monitoring the weekly weather trends and with Saturday's warm temperatures predicted we couldn't pass up this opportunity to jump start the 2018 racing season." He added, "We have worked very hard this spring to be in this position to race this Saturday and Sunday and our new racing surface has been excellent during the first two practice sessions we held."
On Saturday racing will officially get underway at 5 p.m. The four – division program will be highlighted by a $1,000 to win GRIT Crate Sportsman event. The race was originally scheduled for April 8th but was postponed due to the cold and wet conditions. The Summer Slam program for Xcel 600 Modifieds and Street Stocks will be joined by the Fantastic Five FWD Four Cylinders on Saturday's racing card.
On Sunday racing will begin at 4 p.m. The Crate Sportsman will have their first Sunday Summer Slam event at the speedway paying another $1,000 to the race winner. The All-Star Street Stock Tour, Xcel 600 Modified Tour, Four Cylinder Open and Factory Stocks will be fill out the card on Sunday.