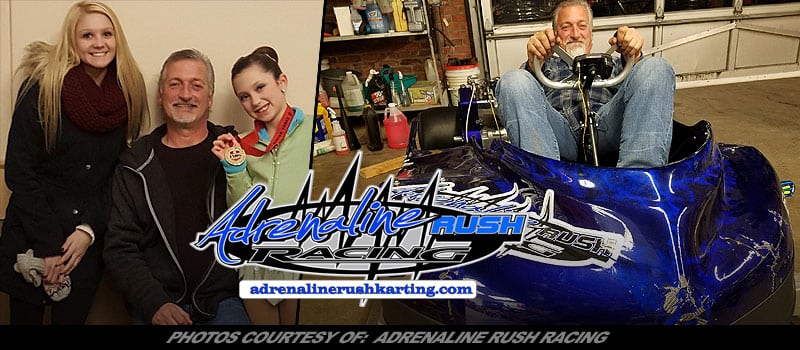 Column By: JIM HILLIER SR. / RPW – ROME, NY – A couple of weeks ago I notified Adrenaline Rush owner Doug Grimaldi that I needed to see for myself in person what his operation was all about. The day and time was all set and after an hour and a half drive to his headquarters I parked in his spacious parking lot and sat in my KIA in total awe. This place must be the mecca of karting of new and used racers just like every area kart team told me about.
I first met Doug Grimaldi at Caroga Creek Speedway as he was competing in a Wing Champ event that evening. He was very gracious to me, paid his entry and stated he was arriving late and needed to get things underway at his trailer. Doug was just like most of the other competitors just anxious to get on the track and do some competitive racing something he truly enjoys doing when time permits.
I entered the glass doors to the Adrenaline Rush show room and was completely blown away. Spotless, professional looking and loaded with karts and parts I was taken back. A voice from the office instructs me to check the place out from front to back while a customer in the office completes his deal with Doug. I can hear a kart motor running on a dyno which peaks my interest with a wave to the gentleman running the high tech piece of equipment. I walked through several rooms eyeballing kart frames, kart seats, kart tires, kart clutches, complete new and used karts, trailers I could go on and on. Again, one word stated WOW!
I had seen enough and it was time to sit down with the Adrenaline Rush Racing owner Doug Grimaldi and basically stick my nose into his business seeking answers from him and hope that he didn't toss me out. Such was not the case as Doug answered every and all questions in an honest manner without ever having to tell me that it's none of your business Jim!
Let's get started was my opening statement.
Your background and what got you where you are today Doug?
Doug: Grew up in Frankfort New York and my father Joe ran a race car at Utica-Rome Speedway. It was a #5 and his nickname was "Sonny" Grimaldi. I ran a pure stock and pro stock there and had some success. I was also involved racing off shore Super Vee Light boats with success, but that experience became very expensive. I guess it was time to seek to do something else in what little spare time I had. It happened to be a lone $700. E-Bay bid on a go kart that got this whole thing underway. I had a building in Utica and raced the kart inside and really had a lot of fun. I was then bitten with the kart racing bug and had thoughts of buying and selling too.
Your family and is this your full time deal Doug?
Doug: I have two daughters who I am extremely proud of. My oldest daughter Brooklyn is 19 and attends Utica College taking business courses. Who knows maybe someday this type of business might interest her too. I also have owned a heating and cooling business for 18 years that demands a lot of my time and at some point I'll scale back. My youngest, Alexandria age 12, resides in Alex Bay with her mother and is an outstanding ice skater another family event that I totally enjoy watching her compete.
When do you find the time to handle Adrenaline Rush Racing business?
Doug: Officially I began this business first in my Utica owned building and then moved out here in Rome. Who knows I might move to another site and if I ever do the entire complex will be setup to my liking. I've got two guys that assist me and it is important to me that those two guys have what they need for Adrenaline Rush Racing to be highly successful. Art Newman does my engine work and Jim Mehaffy does all of the clutch work. We officially opened this business on October 12, 2011 and I can tell you we have sold as I speak to you 561 new and used karts. I personally travel all over the east coast buying lots of good used parts to bring back to the store. I am also a dealer for Slack Karts a product I totally endorse.
When do you find time to race yourself Doug and talk about the WCRS please?
Doug: Time set aside for me to race has gotten tougher and tougher. I did get to compete at Daytona last December of which was fun as well as expensive. I enjoyed the size of the track (1/4 mile) and the shape of which required drafting. I like tracks like that to compete in my Wing Champ kart and around here Paradise Speedway fits my driving style. I haven't spent much time racing at all in my flat karts, but that's okay as I now have the Wing Champ bug. I'd like to follow the WCRS this year, but there will be sometimes when it won't be possible due to my two businesses that are truly keeping me busy.
The Wing Champ Racing Series educate our RPW readers…..
Doug: One night a racing pal of mine Tom Varin was sitting right where you are Jim and we got kicking around some wild ideas about starting a new division. I said to Tom there's a kart sitting there collecting dust what can we do with that to get it back on the race track. Tom says put a wing on it and racers will get the idea it's a smaller version of a sprint car. Tom Varin was right on and after a one year learning curve and having a lot of fun the Wing Champ for our immediate area was born in 2016. In 2017, we started a small series and actually drew 32 Wing Champs our first event at Caroga Creek Speedway. Ryan Swartz ended up borrowing a motor from then point leader Bobby Rhinehardt to run the last event and beat Bobby out for the 2017 title. To me, that was true sportsmanship. In 2018, the WCRS has added three Junior Divisions and at the first event scheduled for April 28th, I personally can envision 50 entries in the Adult division. The WCRS has really drawn a huge interest over the winter months and as stated it truly is the "Fastest Growing Series in the Northeast". I am honored to be a competitor in the WCRS events and Tom Varin is the individual who has brought us there.
I personally have met a lot of different individuals in the sport of auto racing. They include promoters, writers, officials, team owners, drivers, race fans, crews, sponsors and part suppliers. I will go on record as stating that Doug Grimaldi owner of Adrenaline Rush Racing and a WCRS competitor is one of the most professional individuals that I have ever met. If you ever have any type of interest in securing karting equipment for yourself or a family member, spend your hard earned dollars or ask the guru of area karting Doug Grimaldi the ins and outs of getting started. No, I did not accept the chicken wing bribe the three Adrenaline Rush Racing staff offered me. I politely walked out the same door I had entered some three hours earlier and headed back to Johnstown New York…..Thanks for the interesting time Doug!