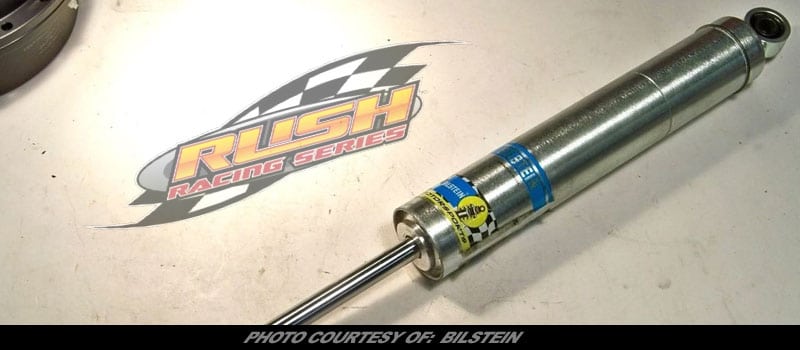 Story By: MIKE LEONE / RUSH RACING SERIES – PULASKI, PA – The Sweeney Chevrolet Buick GMC RUSH Racing Series powered by Pace Performance is pleased to continue its partnership for the fifth straight year with Bilstein Shocks.
The "Official Shock" of RUSH is mandated on the RUSH Sportsman Modifieds, RUSH Pro Mods, and the new RUSH Sprint Cars. In addition, the "RUSH/Bilstein" package is a popular choice and has found great success amongst RUSH Late Model, RUSH Pro Stock and racers in the three asphalt RUSH classes at Jennerstown Speedway.
Back in 2014, the Bilstein name began to grow throughout RUSH as regional standout racer Alan Dellinger started having success on the $135 sealed, spec "RUSH/Bilstein" shock package winning the very first night he raced on the shocks in RUSH Late Model competition, and winning numerous feature events that season. The 2014 season was the same year the RUSH Sportsman Modifieds debuted. While not mandated in Late Model competition numerous racers have experienced great success on the shock package, and the RUSH Sportsman Modifieds, which were the first RUSH class to mandate the $135 "RUSH/Bilstein", has continued to grow each year.
Two years later, the second class evolved mandating the "RUSH/Bilstein" package the RUSH Pro Mods debuted as a weekly division at Stateline Speedway. This past season saw Old Bradford Speedway pick up the class weekly on Sunday nights and McKean County Raceway added several special events. The class doubled in car count from its inaugural season and is right on track for continued growth as several new drivers are set to join competition in 2018 for year three.
When the non-wing Sprint Car division under RUSH was announced in 2017, it was natural choice to require these cars to also utilize the $135 Bilstein Shocks. The RUSH Sprint Cars will debut in 2018 and will run its inaugural event on April 20 at Lernerville Speedway in its first of 10 events at the Sarver, Pa. oval. Interest is high and the class, which has 27 events at 10 different venues scheduled in 2018, is expected to grow as the region's first cost-containment Sprint Car class.
Over the years racers not mandated to use the RUSH/Bilstein $135 shock package on both dirt and asphalt picked up the moniker "Bandit"! When you run the RUSH/Bilstein Shocks, avoid spending five to eight times the price of other high dollar shock packages, and find success- you are a "Bilstein Bandit". Justin Lamb is coming off his career best season in which he had 16 top 5s in 17 starts at Pittsburgh's PA Motor Speedway and finished third in the "Jook George Steel City Classic" over a 43-car Sweeney Touring Series field and a deep field starting position.. Late Model drivers like Sam Pennacchio and Chuck Medved ran the $135 "Bilstein Bandits" for the first time in 2017 and both had their career best seasons.
Corey McPherson is one of numerous RUSH Pro Stock racers who chose to become a Bilstein Bandit. McPherson finished in the top four in 13 of 14 events at Lernerville in route to his fifth track title in six years, riding on the RUSH/Bilstein package the past two seasons. More impressively, McPherson defeated a stout field of cars in both Lernerville Speedway's 2017 "open engine" events, the "Autumn-Motive Fest" and "Steel City Stampede" using the $135 RUSH/Bilsteins capturing $3,200 in total winnings between the two nights.
After some testing in the spring, the RUSH/Bilstein package became a viable option on the asphalt at Jennerstown Speedway in the RUSH-sanctioned Late Model, Modified, and Street Stock divisions. As drivers began having success, more and more competitors began to run the $135 option. One such was female lady racer, Lauren Butler, who made history becoming the first female RUSH Champion and first female to win a Street Stock title at Jennerstown.
"The RUSH/Bilstein sealed spec shocks are one of the things that I'm most proud of in conjunction with RUSH," explained Series Director Vicki Emig. "The package has allowed our Sportsman Modified, Pro Mod, and Sprint Car divisions to be on the same, consistent, and affordable shock package, while allowing racers in the Late Model, Pro Stock, and asphalt division a winning option at a very affordable price. We cannot thank Bilstein's Jim Hiland enough for the time and expertise he has dedicated to this program and his willingness to not only work with our Series, but the racers in a one-on-one basis as well. We've never heard a negative word about shocks in our Sportsman Modified and Pro Mod divisions and haven't had one Sprint Car driver question the implementation of the Shocks in our newest division. This all speaks volumes to the effectiveness of the RUSH/Bilstein sealed spec shock program they have developed."
"As I watch the industry continue to search for an affordable and viable option to combat the continued problem of high dollar shock packages and ever evolving suspension technology I am so thankful for the relationship I have with Bilstein," added Emig. "Bilstein is a worldwide company that builds shocks that compete with and exceed others across the board in all forms of motorsports, but they also understand the importance of providing an affordable spec shock, for grassroots racers. I think it speaks volumes to their integrity and commitment to the future health of our sport. I hope other Series and racing organizations take notice of the tremendous success RUSH has experienced with this program and consider implementing it into their own programs; it's such a simple and effective way to address the problem, they don't have to ask me, simply ask the numerous RUSH racers who compete with them."
Bottom line is simply that we've proven to teams they can choose a shock package that costs a few hundred dollars instead of a few thousand, give up no lap time at all, while making gains in the areas of consistency and durability.
A complete list of distributors for the "RUSH/Bilstein" shocks package package can be found on each of the Series' websites with each being able to be accessed from www.rushracingseries.com.