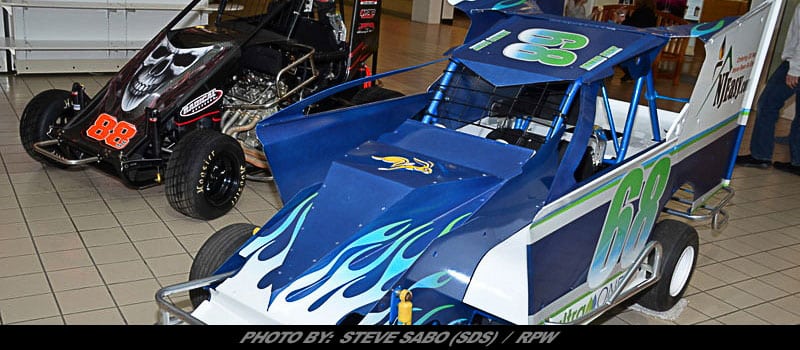 Story By: STEVE PADOS / DIRT TRACK HEROES – PHILLIPSBURG, PA – The event staff of the Eleventh Annual Quaker Steak & Lube Dirt Track Heroes Show continues to add the finishing touches on what will be another great event coming together as the past, present and future of auto racing joins forces together under one roof in Phillipsburg, New Jersey.
The Dirt Track Heroes Car Show will be primed and ready to go when the doors of the Phillipsburg Mall swing open to welcome the return of the show on opening day set for Sunday, March 4th. The show encompasses the majority of the local short track scene and will continue its week long run through Saturday night, March 10th.
The Phillipsburg Mall, located on Route 22 East in Phillipsburg, NJ, has proven to be a popular setting for this special event and will offer a multitude of race cars, racing memorabilia, collectibles and photos on display throughout the course of the show. The week long show continues to be FREE of charge to the Mall traffic and the 2018 edition of the show will be the trend setter of the many shows that are scheduled during the year. With an exciting and diverse schedule of events to whet the appetite of any true race fan, large crowds are expected to fill the wide walkways of the Phillipsburg Mall.
Along with lead sponsor Quaker Steak & Lube, the newest edition to the list of great sponsors for the popular show is the Denise and Randy Smith promoted Hamlin Speedway. Located in the heart of the Poconos Mountains, the Hamlin Speedway was resurrected from a dormant state thirteen years ago by the Smith Family and with a solid working staff have transformed the facility into a show place for seven divisions of racing every Saturday night that features a solid roster of some of the most talented driving stars who are beginning to make their mark in the world of motorsports. The excitement and wheel to wheel racing action at Hamlin has made the speedway one of the top entertainment values in the country today for small car division racing. The Hamlin Speedway is a must see and do for great family fun and all at affordable pricing at the "Pearl of the Poconos."
The new schedule for the upcoming season is now in place and offers a well-rounded cross section for all of the speedway divisions to be highlighted during the 2018 racing season. Contact the speedway today at: 570 420 5500 or check out their newly designed website at: www.hamlinspeed.com Don't forget when you are looking for something fun and exciting to do, try the S&S Speedways Indoor Go Karts for some honest to goodness fender to fender and paint trading fun with a gang of your friends. Party rentals are available and the excitement of stomping the throttle and dicing it out with your friends will have you coming back time and again for more of the intense racing action. Check it out on the web at: www.SSSpeedways.com
The Dirt Track Heroes Show is extremely proud and thankful to the great list of associate sponsors assembled for the upcoming show. To our loyal racing fans, we ask that you please support these fine institutions whenever you have the opportunity to do so. These great sponsors are the life support of the show and to do the show without them would be extremely difficult to accomplish. In place thus far is the IRCO Community Federal Credit Union who has been a sponsor since the inception of the show in 2008. Contact IRCO at: 908-859-1811 or their website at: www.ircocu.com. Smith Fabrications, home of the Stage One Modifieds, can be reached at: 610-462-4302 or at: www.smithfabrications.com Premio Foods offer a great line of Sausage Products. Visit their website at: www.premiofoods.com. Alex's Tire/Breidingers Speed Shop is located at 102 Commerce Way in Stockertown and can be reached at: 610-759-8743 or: www.alexstire.com. Adams Brother Used Auto Parts can be reached at: 610-264-4411. Jeff's Automotive is located at 4110 William Penn Highway in Easton and the number to reach them is: 610-253-6565 or visit their website at: www.jeffsautomotive.com JPA Masonry can be reached at: 570-839-9656 or: info@jpamasonry.com Upstate Auto based in New York can be reached at: 518-537-2277 or: www.upstateautoinc.com
All historical racing groups including Flemington, Tri State, Reading, Harmony and Nazareth will have their memorabilia on display and their many scrapbooks open for the fans to take another long look at the glory years of racing and possibly find a picture or two they want to purchase as a keepsake from past glory or racing exploits. MiBest Collectibles, Friends of Nazareth, Snyder Photos and Snyder Videos and Greg Collins will have photos and collectibles for purchase.
Entries are now accepted to display at the Eleventh Annual Dirt Track Heroes Show. More information is available by calling: 443-513-4456 or you may complete the entry form located on the home page of the: www.thunderonthehillracingseries.com web site or through email at: TOTHILL98@aol.com. You may also contact Steve Pados at: 484-784-7756 or at: steveswp@ptd.net Follow the simple instructions posted on the web site to register. Space is available for race cars of all divisions, show cars, vendors and race tracks as well.
The Dirt Track Heroes Car Show will again offer a great keepsake event souvenir program book and shirt. The Phillipsburg Mall is open Sunday 11 AM to 6 PM and from Monday through Saturday from 10 AM to 9 PM.
Eleventh Annual Quaker Steak & Lube
Dirt Track Heroes Car Show
2018 Schedule of Events
Sunday- March 4 – (Starting at 1:00) – Jeff's Automotive, Upstate Auto Sales and Huston's Automotive presents Dirt Track Heroes Car Show Opening Ceremony honoring racing legend Bill Tanzosh with Driver Interviews and Autograph Session: Saluting the Nazareth Speedways and Dorney Park Speedway
Monday- March 5 – (6:30 PM) – Alex's Tire/Breidinger's Speed Shop, Smitty's Collision Center and Murante's Auto Repair presents Drag Racing Night featuring current and past facilities
Tuesday- March 6 – (6:30 PM) Adam's Brothers Used Auto Parts and Dean Auto Sport presents the "Stars of Tomorrow" featuring all Quarter Midget Clubs: West End, Keystone, Blue Mountain, Lehigh Valley and more
Wednesday- March 7 – (6:30 PM) – Hamlin Speedway/S&S Speedways, JPA Masonry and Smith Fabrication/Stage One Modifieds presents Hamlin Speedway all divisions, Snydersville Raceway, Accord Speedway, and Orange County Fair Speedway
Thursday- March 8- (6:30)- Penn Jersey Supermarkets and Gardner's Auto Service presents New Egypt, Bridgeport, Grandview, Big Diamond, Mahoning and Evergreen Speedways
Friday – March 9 – (1st Show (4 p.m.) – APS Powder coating, ARM Automotive and Ralph's Radiator presents Special Edition "The Legends of Racing" honoring Grand Marshal Bobby Rossell with many legendary stars from Reading, Nazareth, Harmony and Flemington expected to participate.
Second Show- (7:00 PM)- Martocci Automotive, R&T International Muffler and Carl's Auto Repair presents Salute to Open Wheel Racing Divisions-Thunder on the Hill, ATQMRA, Vintage ¾ Midgets, Midgets, Action Track, Mid-Atlantic Sprint Series, 305, 358,360 and 410 Sprint Car Divisions
Saturday – March 10 – (1:00) –-Premio Foods and Flemington Speedway Historical Society presents a Special Tribute to All Racing Legends from Flemington Speedway & all Speedways with interview and autograph sessions and the Presentation of the "Tas" Awards (Ray Liss, Harry Dee, Kenny Brightbill, Billy Osmun)
IRCO is a nightly sponsor for all events. Charitable Organization is St John's Angels
Mall Hours: Sunday 11 a.m.-6 p.m. Monday-Saturday 10 a.m.-9 p.m. –
*Schedule subject to change