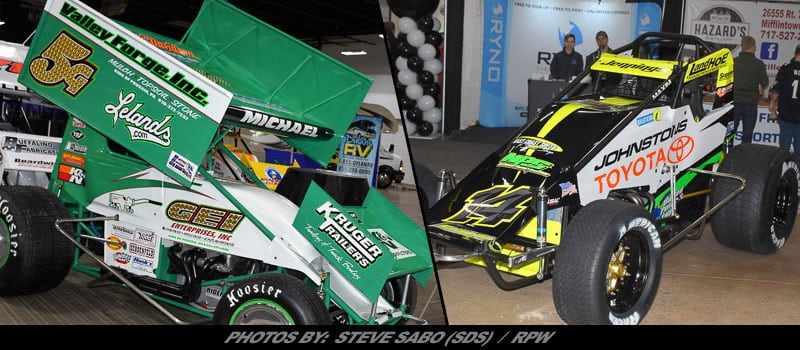 Column By: MIKE PETRUCCI / RPW – OAKS, PA – With warm temperatures and sunny skies greeting thousands of racers, teams, manufacturers, representatives and fans, the Motorsports 2018 Race Car and Trade Show at the Greater Philadelphia Expo Center saw large crowds and enthusiasm among traveling series, tracks, and racers as momentum builds for the upcoming season.
Curt Michael is working hard and placing a big bet on 360 wingless sprint car racing in the Northeast, hoping the hype around the USAC Eastern Storm 410 events will blossom into a solid base of competitors and fans for the 2018 season.
At the Motorsports 2018 Race Car and Trade Show on Saturday, a large group of interested racers and crew members filled the seminar room to prepare for their inaugural season. Car setups were the topic of discussion. Since the concept for the series was announced in September, a schedule of 10 events has been set, and racers are preparing for their first event on April 18 at Delaware International Speedway in Delmar.
Speaking prior to Saturday's seminar, Michael expressed there is strong demand for full-sized sprint car racing in the region, as small-engine divisions are growing and producing young racers eager to advance.
"All the micro guys are running wingless these days," Michael said. "Now they'll have something to move up in. We're trying to give them an option to race."
Working with the URC Sprints, Michael expects a strong following this season. "I'd love to have 20 cars at each race," Michael said on Saturday. "If we can get a full field it would be fantastic."
For sprint car teams used to running with wings, it doesn't take much effort to go wingless. As Michael puts it, "All you have to do is change the front axle, and you can go racing."
Michael continued, "Any 360 ASCS-legal car can run. We're also allowing different engine options. A central PA 358 motor is legal, a 305 is legal, a 602 crate is eligible to race with us, and we're going to be doing a rule that is you have non-ASCS heads, you can run a smaller restrictor in the engine."
Levi Jones was in attendance at the meeting and also provided setup advice to teams getting ready to run. "We're helping Curt because we have guys who want to do this. It's Curt's deal, USAC and myself are just helping him. We want to have fun, we need guys who want to do it. And we have fans who want to see it."
---
With some changes on tap for the 2018 Super DIRTcar Series, including the elimination of home track points and an increase of Saturday night series event dates, Jeff Hachmann is seeing mostly positive feedback from drivers and teams.
"There were a lot of drivers who didn't want to be strapped to a weekly track," Hachmann said. "We tried this back in 2005, and had some hiccups, we're trying it again and the majority of the feedback's been really good. There's some questions out there, and I think some of those questions will be answered starting this year."
All systems are go for the DIRTcar Nationals in February. The very popular event at Volusia Speedway Park in Florida will see the modifieds take to the track for a total of five events in February, an increase from the traditional four. Racing next month will start one night earlier, on Tuesday, February 13.
Once the Northeast tracks thaw out, highlights on this year's Super DIRTcar Series schedule include a return to Bridgeport Speedway on May 16, Land of Legends Raceway on July 5, Weedsport's Hall of Fame 100 on July 28, and Lebanon Valley's Mr. DIRT Track USA, which becomes a Saturday night event on September 1.
Hachmann also reports that Ransomville Speedway is increasing its involvement in hosting all three major touring series in 2018, including the World of Outlaws Late Models on June 15, the WoO Sprints on July 27, and the Super DIRTcar Series Summer Nationals on August 7.
Super DIRT Week is slated to return to Oswego, and Hachmann said the event will follow the same formula from 2017, with no major changes expected.
Many Pro Stock teams are indicating their interest in making the tow to The Dirt Track at Charlotte Motor Speedway for the OneDirt World Short Track Champsionship, as well, which will take place just prior to the DIRTcar World Finals in Late October.
---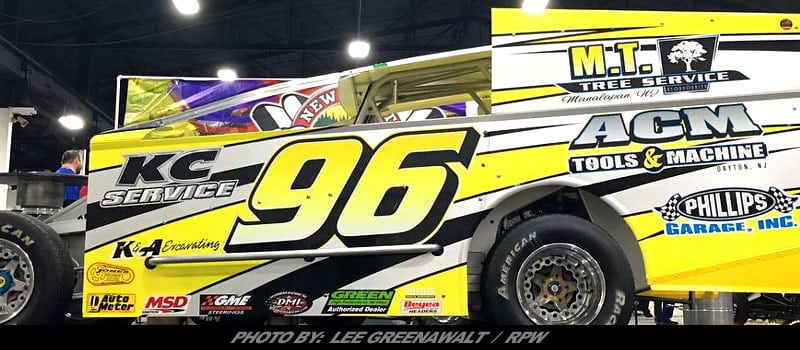 New Egypt Speedway is looking forward to a busy 2018 season that will see high-paying major events open and close the calendar, open competition shows for modifieds, monster truck events, car shows, mud hops and equipment auctions take place at the Central Jersey facility.
"It's an aggressive schedule," says New Egypt's Pete MacDonald. "We have 25 points paying modified shows and five specials." The March Meltdown will open the season for Big Block and Small Block modifieds on March 24, paying $5,000 to win and $400 to start for 50 laps. On June 20, The Garden State Gunfight pays $6,000 for 60 laps and $400 to start. The Legends of the Fall 75 will pay $7,500 to win and $500 to start on September 22, and the All Star Cup Shootout will close out the season with $6,000 to win and $400 to start.
The open competition shows are what the fans asked for, according to MacDonald. There will be rules for multiple engine combinations. "You can run a Delaware big block, you can run a spec small block, or you can run an open small block."
The track is picking up a few names in its headline division, as well. After racing at Bridgeport in 2017, Dominick Buffalino is returning to the NES Modified division, as well as a host of other names. "We have an Influx of rookies this year," continued MacDonald, including Brian Papiez, Matt Stangle, TJ Lilly and JR Fulper and Dakota Kessler.
The modified champion will receive $10,000 on September 8, and weekly features for the headline division will pay $2,500 to win and $300 to start. The track also is looking forward to starting a 4-cylinder division in 2018.
---
Joe Skotnicki is working to firm up the final dates on the 2018 schedules for the Race of Champions tours, but he is eager to report that the Race of Champions 250 will return to Lake Erie Speedway on September 28 and 29. Last year's inaugural event saw Matt Hirschman win after a late-race restart, with lots of side-by-side racing for the lead.
One confirmed date on the schedule is a trip to Ontario's Jukasa Motor Speedway on July 14. The speedway is located within a short drive from Buffalo and will put the modifieds on a grand stage, alongside the ISMA Supermodifieds.
Skotnicki tells RPW the western-leaning asphalt modified tour is deep with talent throughout the field. "Pat[rick Emerling] won Bristol this year, and our guys fought tooth and nail with him for the championship right down to the last night… I would take any of those guys, if I had the budget and the race team, and take them on the [NASCAR Whelen Modified] Tour, and they'd fair better than OK.
"We don't cater to any type of team, but we keep it fair for everyone," Skotnicki continued. "What we do is different. It's two rounds of practice, not an hour and a half… We don't choose the tires, we let the teams choose their tires, and the series looks out for all of the teams." Bringing a different race format to the schedule also lets the tour stand out. The series runs group time trials, gives bonus points to drivers for heat race finishes, and redraws the top 12 qualifiers before feature time. "When the green flag drops, it's the World of Outlaws for modifieds."
Skotnicki's involvement on dirt will be limited to the Sportsman division in 2018. "It's fun for us to keep our toes in the water there, and I like supporting that group. They've been very receptive to us and we get to go to some great places."
---
Michael Sabia is searching for a place to race in 2018.
Sabia's 2018 TEO PRO car was on display in the Redline Graphics booth, with American Racer rubber displayed around all four corners of the car. Sabia told RPW he is looking to change his team's program for this upcoming season.
The team has a wide range of motors on hand, and a couple of cars at their disposal. However, Sabia is looking for a schedule that may take him to new venues around the region. Sabia is considering New Egypt and Bridgeport as well as some of the Short Track Super Series events in 2018, but plans are not set in stone yet.