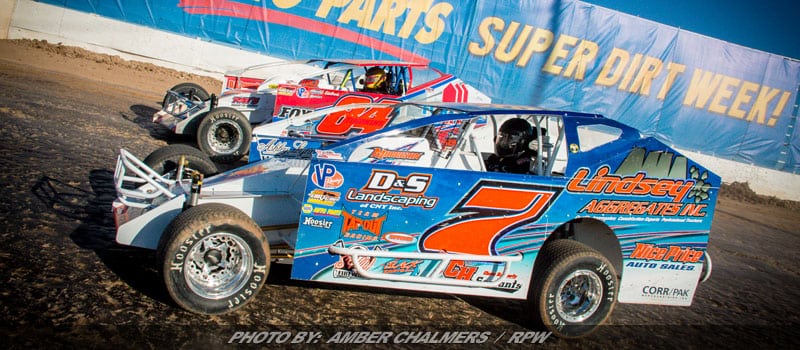 Story By: COLBY GORNIEWICZ / DIRTCAR – CONCORD, NC – Just a couple short days, race teams across the Northeast and beyond will make their way onto the grounds of Oswego Speedway for the most anticipated event of the year, NAPA Auto Parts Super DIRT Week. Winning payouts aside, drivers across four divisions will be looking to pad their pockets with cash and prizes from the long list of contingency and special award partners.
The NAPA Super DIRT Week Contingency Program continues to forge lasting partnerships throughout the dirt racing industry with high-quality brands. Competitors become eligible for contingency awards by displaying sponsor decals on their race cars. In some instances, use of a sponsor product is required.
A new sponsor to the fold this year is Schoenfeld Headers. Schoenfeld Headers is the world's largest manufacturer of circle-track headers, but also specializes in a variety of high-quality exhaust parts, including turn-downs, extensions, tubing bends and elbows, race mufflers, insert mufflers, mandrel bends, exhaust reducers, and header gaskets.Schoenfeld Headers is a proud contingency sponsor of the 358 Modifieds, Sportsman Modifieds and the exclusive Header of Pro-Stocks.
The Pole Winner from each of the four divisions running at NAPA Super DIRT Week will take home a little extra cash from Unique eCigs. With 11 locations across New York and Georgia, Unique eCigs Life Changing Vapor Systems offers the latest electronic cigarette products, e-Liquids, devices, and vaping supplies.
Bart Contracting, a long-time supporter of DIRTcar Racing is stepping up its program by sponsoring
Sunday's
Billy Whittaker Cars 200 Hard-Luck Award for the Big-Block Modifieds, paying out $1,000.
The Best Appearing Car for each of the divisions running at NAPA Super DIRT Week will receive a gift package from industry-leading media outlet Area Auto Racing News.
The Outside Pole Awards are being sponsored by Dig Safely NY (Big-Block Modifieds), Sowle Auto Body (358 Modifieds) and Northeast Racing Products Auction & Trade Show (Sportsman Modifieds and Pro Stocks).
"The DIRTcar Racing Contingency Program strives to build strong relationships throughout the dirt racing industry with high quality brands. It's great to have a program that is so rich in history with our participating partners having direct access to our teams and loyal fans," said Brian Carter, DIRTcar Racing CEO. "We are pleased to see the continued level of commitment from both new and returning partners to the program this year."
Below is a full list of contingency partners and awards, along with a list of NAPA Super DIRT Week partners.
2017 NAPA Auto Parts Super DIRT Week Special Awards
| | |
| --- | --- |
| Modified Special Awards | Partner  |
| Pole Award | Unique eCigs |
| Outside Pole Award | Dig Safely NY |
| Non-Qualifier's Race Winner | NESCOT |
| Rookie of the Race | Scott Jeffery's Performance Plus |
| Hard Luck Award | Bart Contacting |
| Hard Charger Bonus | Northeast Racing Products Auction & Trade Show |
| Last Car in the Field (41st Starter) | Dirt Track Digest |
| Best Appearing Car | AARN |
| 358-Modified Special Awards | Partner  |
| Pole Award | Unique eCigs |
| Outside Pole Award | Sowle Auto Body |
| Hard Charger Award | Scott Jeffery's Performance Plus |
| Best Appearing Car | AARN |
| Sportsman Special Awards | Partner  |
| Pole Award | Unique eCigs |
| Outside Pole Award | Northeast Racing Products Auction & Trade Show |
| Hard Charger | Northeast Racing Products Auction & Trade Show |
| Non-Qualifier's Race Winner | NESCOT |
| Rookie of the Race | Scott Jeffery's Performance Plus |
| Best Appearing Car | AARN |
| Pro-Stock Special Awards | Partner  |
| Pole Award | Unique eCigs |
| Outside Pole Award | Northeast Racing Products Auction & Trade Show |
| Non-Qualifier's Race Winner | NESCOT |
| Best Appearing Car | AARN |