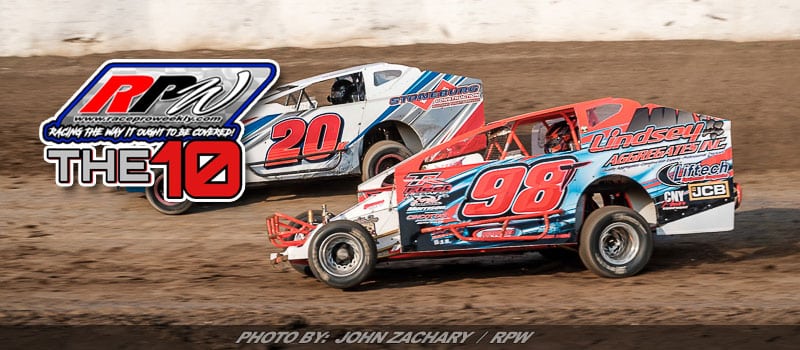 Story By: RYAN HILL / RPW – FULTON NY – Tyler Thompson straps in for today's installment of RPW's "THE TEN". Tyler is a 15 year old sportsman modified driver out of Fulton, NY, and here is how he answered our 10 questions.
1- WHY IS YOUR NUMBER 98T?
98T is my number because my dad raced small block supers at Oswego Speedway as number 98, so when he got me into racing I wanted to be the same number as him.
2- OTHER THAN WHAT YOU DRIVE NOW, WHAT TYPE OF RACE CAR DO YOU WANT TO DRIVE?
My dream is to one day drive a sprint car. I feel like it would be exciting and such a rush.
3- WHAT IS YOUR PROUDEST RACING MOMENT?
One of my proudest racing moments was my first win in a sportsman. It was in the novice division at Fulton Speedway.
4- WHAT IS YOUR MOST EMBARRASSING RACING MOMENT?
That would have to be my first time sportsman, I destroyed the car in turn 1 at Canandaigua.
5- WHAT ONE RACE WOULD YOU LIKE TO WIN?
Super Dirt Week.
6- WHO WAS YOUR FAVORITE DRIVER BEFORE YOU BECAME A DRIVER?
My dad.
7- HOW DID YOU START RACING?
My dad told me about the karts at the Oswego Kartway behind the big track, and I went and watched a few races and really enjoyed it. We bought a kart and went racing, and I realized racing is what I wanted to do.
8- WHAT IS YOUR STRONGEST TRAIT AS A DRIVER?
I think my strongest trait as a driver is that I don't give up even if it was a bad night, or whatever happened on the track.
9- WHAT IS YOUR WEAKNESS AS A DRIVER?
My weakness is sometimes finding the right groove to run when the track gets slick.
10- WHAT IS YOUR OFF-SEASON LIKE?
In the off season I race karts for Slack Karts and Performance Manufacturing at indoor races all over the country, and also getting ready for the upcoming season of big car racing.
Tyler would like to thank his Dad, David O'Conner, his Mom, Lindsey Aggregates, Lift Tech and JCB Equipment, Troyer Race Cars, Fleet Repairs, S&W Firewood, Morrison's Performance, Donath Motors, Cincottas, Slack Karts, Performance Manufacturing, MBR Speed shop, TeamTapOut Racing, D&S Landscaping, NicePrice Autos, Scott Jeffery's Performance Plus, and everyone that helps him out.