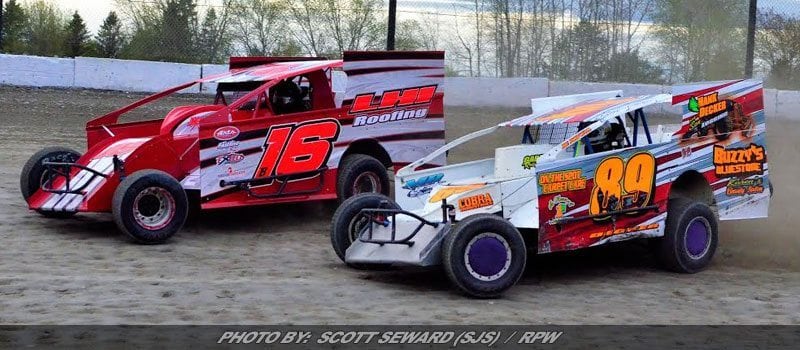 Story By: JR KENNERUP / AFTON MOTORSPORTS PARK – AFTON, NY – There was going to be quite a party at the Afton Motorsports Park on Friday night, not only to celebrate the great racing action but also to celebrate Cinco De Mayo. However Mother Nature had other plans and decided to rain on the parade and the precipatation, which started on Thursday evening forced co – promoters Ron Ford and Leon Andrus to make the tough decision to postpone the racing action to next Friday night.
Afton Motorsports Park had held three successful events in 2017 with two test and tune sessions and a highly successful opening night last week. Anticipation was high leading into the second point show program,which ended up being the first lost show of the 2017 racing season due to weather.
Feature winners so far during the young season are Andy Bachetti of Sheffield, MA in the ZMK Construction Modifieds, Claude Hutchings, Jr. of Saquoit, NY in the Scorpion Security Products Open Sportsman, Matt Brewer of Hallstead, PA in the Ted's Body Shop Crate Sportsman, Doug Polhamus of Windsor, NY in the Auto Plus Street Stocks, and Bob Crandall of Sidney, NY in the Chambers & O' Hara Four Cylinder Trucks.
Coming up this Friday night to kick off the Mothers' Day Weekend will be the first special event for the 2017 racing season at the Afton Motorsports Park. The Capital Region SprintCar Association ( CRSA ) will make their first appearence of the season. These winged racing machines powered by a 305 cubic inch engine really motor around the lightning quick quarter mile oval. Matter of fact during test and tune session number one back on April 14th Dustin Purdy ripped off a quick lap of 13.742 seconds. CRSA will compete in a full program of heats, consi ( if needed ), and a 20 lap feature event.
Due to the extra division there will be a slight increase in admission with adult admission being $14 , while Senior Citizen admission will be $12, Youth ( ages 9 to 14 ) admission will be $7 , and Kids 8 and under will be free.
For more information on the Afton Motorsports Park you cna log on to the World Wide Web at www.aftonmotorsportspark.com or call us at 607 – 639 – DIRT.
Afton Motorsports Park is fast, fun, and furious.