Taylor Brothers Score Poll For IMSA Grand Prix At Long Beach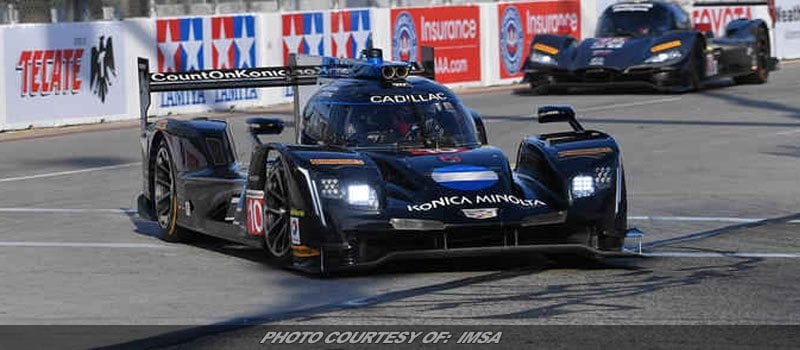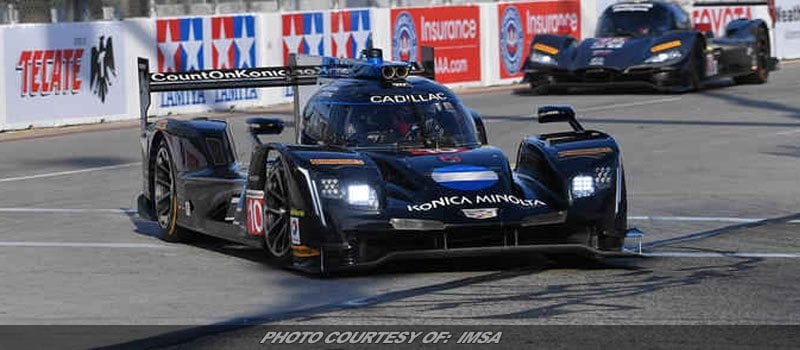 Story By: IMSA – LONG BEACH, CA – The wave of momentum brothers Ricky and Jordan Taylor established with wins in the opening two races on the IMSA WeatherTech SportsCar Championship calendar has seemingly carried over to the streets of Long Beach. Starting off the weekend by sweeping Friday's opening two practice sessions for the BUBBA burger Sports Car Grand Prix at Long Beach, Ricky Taylor followed it up by winning the TOTAL Pole Award in the No. 10 Konica Minolta Cadillac DPi-V.R.
The Taylors will look to make it three in a row when the green flag flies at Long Beach, a track they also have won each of the past two seasons, on Saturday at 4 p.m. ET, live on FOX.
Ricky Taylor led throughout the 15-minute qualifying session, lapping the 1.968-mile, 11-turn temporary street circuit in a track record 1 minute, 13.549 seconds. That lap bested Taylor's own previous track record set in 2014 of 1:14.790 by over 1.2 seconds.
"When the team hands you a fifth-place car it's fun to go out in qualifying and just fly around, but when the team hands you a first place car, and the expectations are high, it can be a little nerve-wrecking, said Ricky Taylor, who scored his 14th career pole. "I think this pole is the most important of the year knowing how important the track position is [at Long Beach]. This year it's going to be the most difficult in our history here at Long Beach because of the amount of cars. It could really be a stressful race."
The No. 5 Mustang Sampling Cadillac Daytona Prototype international (DPi) of Christian Fittipaldi made it an all-Cadillac front row with a lap of 1:13.753, just 0.204 seconds behind Taylor. Fittipaldi and co-driver Joao Barbosa enter the weekend second in the WeatherTech Championship Prototype standings following a pair of runner-up finishes to start the season.
The early-season speed shown by Mazda Motorsports continued Friday with Tristan Nunez qualifying the team's No. 55 Mazda DPi entry a season-best third with a lap of 1:14.128. Nunez will be joined on the second row by Misha Goikhberg, who followed up a fourth-place finish at Sebring along with co-driver Stephen Simpson, with a fourth-place qualifying effort at Long Beach, 1:14.408, in the No. 85 JDC-Miller Motorsports ORECA.
The No. 31 Whelen Cadillac DPi of Eric Curran and co-driver Dane Cameron, looking to build off a podium finish at Sebring, rounded out the top-five with a lap of 1:14.444.
Nine Prototype entries participated in qualifying Friday, down one from the 10 entered at the beginning of the weekend. In the day's opening practice session, the No. 90 VISIT FLORIDA Racing Multimatic/Riley suffered damage in an incident. The extent of the damage was enough to prevent the team and co-drivers Marc Goossens and Renger van der Zande from participating for the remainder of the weekend.
Magnussen Takes Third Long Beach Class Pole in Corvette
Prior to Friday, Corvette Racing driver Jan Magnussen had qualified on pole twice for IMSA sports car races on the streets of Long Beach, taking the American Le Mans Series GT1 class pole in 2008 and the IMSA WeatherTech SportsCar Championship GT Le Mans (GTLM) class pole in 2014.
In both cases, the Dane went on to win the next day. He's hoping that trend will continue in Saturday's BUBBA burger Sports Car Grand Prix at Long Beach – which will be televised live on FOX at 4 p.m. ET – as Magnussen found success again in GTLM qualifying Friday night.
Driving the No. 3 Corvette C7.R, Magnussen turned a best lap of 1 minute, 16.909 seconds, establishing a new GTLM track record on the 1.968-mile, 11-turn Long Beach street circuit to take the class pole. It was his 19th in major U.S. sports car competition, and if he and co-driver Antonio Garcia are able to convert the pole to victory on Saturday, it will be their second in a row, having also won last month in the Mobil 1 Twelve Hours of Sebring Fueled by Fresh From Florida.
"Qualifying here is a fantastic experience," Magnussen said. "I love this place. It's one of my favorite tracks. Qualifying on street tracks is always so much fun. You can scrape the walls a bit but as long as you bring it back in one piece, you won't get in trouble. We found a few areas where we could make some changes after the first session that could give us the extra bit we needed for this qualifying session."
Magnussen snapped a four-race pole streak for Ford, but joining him on the GTLM front row will be current class points co-leader Joey Hand in the No. 66 Ford Chip Ganassi Racing Ford GT. Hand posted a best time of 1:17.001 and shares his ride with German Dirk Mueller.
Qualifying third in GTLM – despite a spin into the tire barrier at the end of the back straight – was Finnish driver Toni Vilander in the No. 62 Risi Competizione Ferrari 488 GTE. Vilander's best time was 1:17.043 in the car he shares with ex-Formula 1 racer Giancarlo Fisichella.
The entire, eight-car GTLM field was covered by just over half a second, setting the stage for a close battle throughout the 100-minute race. The qualifying session ended a minute and a half early when Richard Westbrook crashed the No. 67 Ford GT, removing the car's rear wing and damaging the right rear after contact with the barrier coming onto the backstretch.
GTD Qualifying
Bryan Sellers used the entire racetrack, and maybe even a little bit more, on a last-lap flyer to take the GT Daytona (GTD) class TOTAL Pole Award in the No. 48 Paul Miller Racing Lamborghini Huracán GT3.
Sellers clocked a best lap of 1:19.243 to score the fourth major U.S. sports car racing pole of his careerand knocking former IndyCar racer Jack Hawksworth's Lexus to second on the class grid for the BUBBA burger Sports Car Grand Prix, the Saturday headliner at the Toyota Grand Prix of Long Beach. To get the position, however, Sellers admitted multiple brushes with the concrete barriers that line the Long Beach street circuit.
"It's really exciting," Sellers said. "To get on pole at Long Beach is really cool. I've been close a couple times and have never been able to get there. It's a little extra special for us, having TOTAL on board as a team partner, and get the TOTAL Pole Award makes it even cooler. To represent them on both ends is pretty neat.
"The guys did a good job," Sellers added. "It was a lot of work. I'm sure Jack Hawksworth is in the same position I was, where you're rubbing the walls a little bit. That's what makes qualifying on street courses amazing. It's all or nothing, and today we were on the plus side of that."
Hawksworth will start second in GTD thanks to a best lap of 1:19.276 in the No. 15 3GT Racing Lexus RC F GT3 he co-drives with Los Angeles native Robert Alon. It's the strongest starting position to date for the new-for-2017 Lexus program and provided a bright spot for the team after its other entry, the No. 14 shared by Scott Pruett and Sage Karam, was substantially damaged in a crash during practice Friday morning with Pruett at the wheel.
He was not injured, but the car was unable to partake in practice or qualifying Friday afternoon, and the team has a long night of work ahead if the No. 14 will make the starting grid for the 1 p.m. green flag Saturday.
The Rolex 24 At Daytona-winning No. 28 Alegra Motorsports Porsche 911 GT3 R qualified third in GTD with Canadian Daniel Morad at the wheel. Morad and co-driver Michael Christensen were late additions to the Long Beach field, entering the race last week only after another car was withdrawn, but the 2016 Ultra 94 Porsche GT3 Cup Challenge Canada by Yokohama champion managed a best qualifying lap of 1:19.375.
The top 12 cars in the GTD field were covered by less than one second.
The BUBBA burger Sports Car Grand Prix at Long Beach takes the green flag Saturday at 1:10 p.m. local / 4:10 p.m. ET. Live FOX network coverage begins at 4 p.m. In addition to live network television coverage on FOX, IMSA Radio will offer live coverage of the BUBBA burger Sports Car Grand Prix on IMSA.com, RadioLeMans.com and SiriusXM Radio.
In addition to live network television coverage on FOX, IMSA Radio will offer live coverage of the BUBBA burger Sports Car Grand Prix on IMSA.com, RadioLeMans.com and SiriusXM Radio.