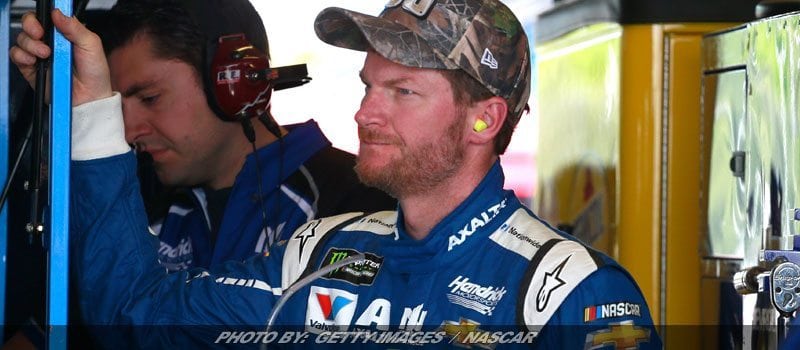 Column By: REID SPENCER / NASCAR – RICHMOND, VA – Dale Earnhardt Jr. was so wound up before Tuesday's retirement announcement that he didn't sleep at all on Monday night.
After the press conference that made official his exit from Monster Energy NASCAR Cup Series racing at the end of the season, Earnhardt slept for 14 hours, the driver of the No. 88 Hendrick Motorsports Chevrolet SS revealed during an interview on SiriusXM NASCAR Radio.
Clearly, the decision was difficult for NASCAR's most popular driver, and now it's done. What that doesn't mean, however, is that Earnhardt can afford to relax as he completes his 28-race farewell tour—at least not totally.
"The fans are going to want you to do as well as you can," Earnhardt said on Friday at Richmond International Raceway, where he qualified 12th for Sunday's Toyota Owners 400 (on FOX at 2 p.m. ET). "They are still going to have expectations per usual. The team, the guys, they all and myself, we would love to win some races.
"I'm going to say a race, but some races would be great, going out in your last season to get some victories. We just want to go to Victory Lane one more time. Just to get that experience one more time would be awesome for me, and I think the guys would love it for sure."
Nevertheless, making the retirement decision and announcing it lifted a heavy weight from Earnhardt's shoulders.
"I certainly do feel a lot more relaxed now," he said. "I don't know whether it's because I finally got to tell everybody and let everybody know what we are doing, get that over with, but I certainly felt real relaxed today in the garage during practice.
"I felt like there was less pressure from somewhere and a large amount (less), a lot different. We had a good practice. We weren't exactly right when we started. And I guess that freedom of thought and freedom from the stress of whatever that I was dealing with helped us get through a good practice and find some speed."
In Saturday morning's first practice, Earnhardt continued to run well, posting the 10th fastest lap at 119.458 mph. On a warmer, slicker track, Earnhardt was 21st fastest in final practice but moved up the track in an attempt to find speed in the top lane.
Earnhardt's fans, however, won't be happy until he finds his way to the top of the chart on Sunday afternoon.
DENNY HAMLIN: IT'S TOUGH TO KEEP A SECRET IN THE GARAGE
Before NASCAR's move to common templates and aero matching, drivers used to beat a path to the sanctioning body's transporter to lobby for their respective car makes.
The late Dale Earnhardt, who would have turned 66 on Saturday, was one of the most ardent proponents of the Chevrolet brand. Whenever he felt Chevy was at a performance disadvantage, he would say so, and sometimes his complaints would result in changes to the cars.
With uniform rules for all cars today, however, crew chiefs now look to other teams and other car makes to overcome deficiencies in performance. With garage stalls in close proximity and photographers making the rounds, it's difficult to keep a secret for long.
"It's happened forever," Denny Hamlin said of the cyclical nature of the sport. "NASCAR used to fix that. They used to cut spoilers off of certain makes and models to help them. Then they would help another manufacturer when they were behind. It's just been an evolution. It's because, obviously, we're sitting in garage stalls six feet from each other.
"Someone's running faster—you can just eventually find enough pictures out there to figure out why you're slow. Then you go to work. Sometimes, while you're doing that work, you hit on something that makes you even better than them. You're faster, they're checking out your stuff. It's a cycle. That's what racing is. It's just a matter of who hits it at the right time and really has the luck to go with it that makes you a champion."
SHORT STROKES
Electrical gremlins continued to plague Kurt Busch's efforts in both Saturday practices. In the first session, the driver of the No. 41 Stewart-Haas Racing Ford radioed he was down a cylinder. The diagnosis? A bad spark plug wire, which was subsequently replaced. In Happy Hour, Busch noticed a voltage drop and lost power to his air-conditioning system when he switched to a second battery. At least the issues occurred in practice. Busch's crew had to replace both batteries during the Monster Energy NASCAR Cup Series race earlier this year after another electrical problem…
Kyle Larson paced final practice with a lap at 119.074 mph… Denny Hamlin was seventh fastest for a single lap in Happy Hour, but the three-time Richmond winner had the quickest car in the field over a 20-lap run, a good omen for Sunday…  Seeking his third straight victory and his 83rd overall (a number that would tie him with Cale Yarborough for sixth-most Cup wins in NASCAR history, Jimmie Johnson was third on the speed chart in final practice after qualifying 17th on Friday.