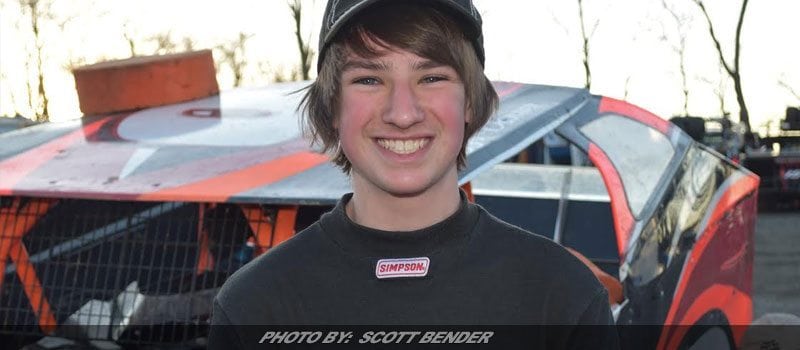 Column By: RANDY KANE / RPW – ALLENTOWN, PA – At the youthful age of 15, Briggs Danner is the youngest chauffeur to strap into a weekly 358 Modified ride at Grandview Speedway.  In spite of his age, Danner already is a 10-year veteran, when it comes to racing.
A third generation racer, Danner began his racing career steering a Quarter Midget in 2007 at the age of 5. His home track was in Schnecksville running with the Keystone State Quarter Midget Race Club.
In 2016 as a 14-year-old racer, Danner climbed aboard a family-funded SpeedSTR weekly at the Action Track USA in Kutztown after retiring from the Quarter Midgets.
This season, Danner has landed a full-time every Saturday night ride aboard the Statewide Security Systems TEO Fabrications No. 6 358 Modified mount at the high-banked third-mile dirt track promoted by the Rogers family.
"Late last season we were racing the SpeedSTR out at Linda's Speedway and the guy who owns the car came up to me and asked me if I'd be interested in driving his 358 Modified car," submitted Danner. "We got his phone number and took his car out to Susquehanna one week, which we used as a test session. We talked into the offseason and worked out a deal by the end of 2016. Once I got a feel for the car, I felt comfortable with it."
Danner's grandfather, Roy Danner Sr. raced Late Models at the now closed Dorney Park Speedway and, from there, moved on to Late Models at the old half-mile Nazareth Speedway dirt oval. His father, Roy Danner Jr. was a Quarter Midget racer in the beginning. From there he moved on to racing Legend Cars until he decided to spend his time supporting his son's career.
"We'll race weekly for now," explained the Allentown resident. "We'll see how things go. I need to get seat time every week, get laps and get experience. We'll still run the SpeedSTR at Kutztown and Linda's and take a little time to get adjusted to the 358 Modified. The 358 Modified, definitely, it has more power. The 358 ride drives differently and driving-wise it's a different animal.
"For now, I'll show up at the track on Saturday nights with my gear and go race it. Me and my dad might go to the race car shop twice a week to help out and talk racing? We haven't figured all that out yet. Right now, the thing's to keep the car in one piece and just get some laps, get seat time and get some experience. I need to do that until things move forward. My dad told me to just go out and learn what I'm doing, mainly. I know I'll go out and learn a lot because the entire season is a huge learning curve," offered Danner, who will turn 16 on September 11.
Danner qualified his first time out and started at the rear in the 30-lap main event by his own request. Danner just ran the laps and, with two to go, he developed a flat, which sent him to the infield. Danner finished the race in 16th and headed home happy looking forward to next time out.
"Dad wants me to start my events from the rear just to get my feet wet at the beginning," revealed Danner. "In the SpeedSTR we did the same thing and I just got better and more confident as the season progressed. I nearly won a feature at Kutztown last season, but Earl Paules just nipped me at the line that night. All I can do is just get better week-to-week and improve as the season moves along. I just need laps, seat time and experience. It should be a fun season."